Telling the L.A. story through self-guided historical walking trails.
For over 20 years, Angels Walk LA has helped preserve Los Angeles history while encouraging pedestrian engagement and public transortation throughout the greater Los Angeles area.
Since 1996, Angels Walk LA has been dedicated to enhancing pedestrian environments throughout Los Angeles by developing self-guided historical walking trails. Our walks exist to bring light to the rich and diverse history of our city by encouraging exploration and discovery of the significant people, architecture, events, and cultural movements that have shaped our great neighborhoods.
We're very excited to continue on our mission with three recently completed walks for East Hollywood/Silver Lake, Boyle Heights, and Central Avenue.
Angels Walk LA by the Numbers
Angles Walk LA serves Los Angeles' communities by promoting awareness of each neighborhood's important cultural heritage and historical significance.
BUNKER HILL HISTORIC CORE
UNION STATION / EL PUEBLO / LITTLE TOKYO / CIVIC CENTER
HOLLYWOOD
CHINATOWN
FIGUEROA CORRIDOR
WILSHIRE
SAN PEDRO
HORTH HOLLYWOOD (NOHO)
HIGHLAND PARK
CRENSHAW
EAST HOLLYWOOD/SILVER LAKE
BOYLE HEIGHTS
CENTRAL AVENUE
Understanding L.A. history helps to ensure awareness of the cultural contributions each neighborhood makes to our great city.
Our goal is to celebrate our diverse neighborhoods by shining a light on their cultural and historical contributions to Los Angeles.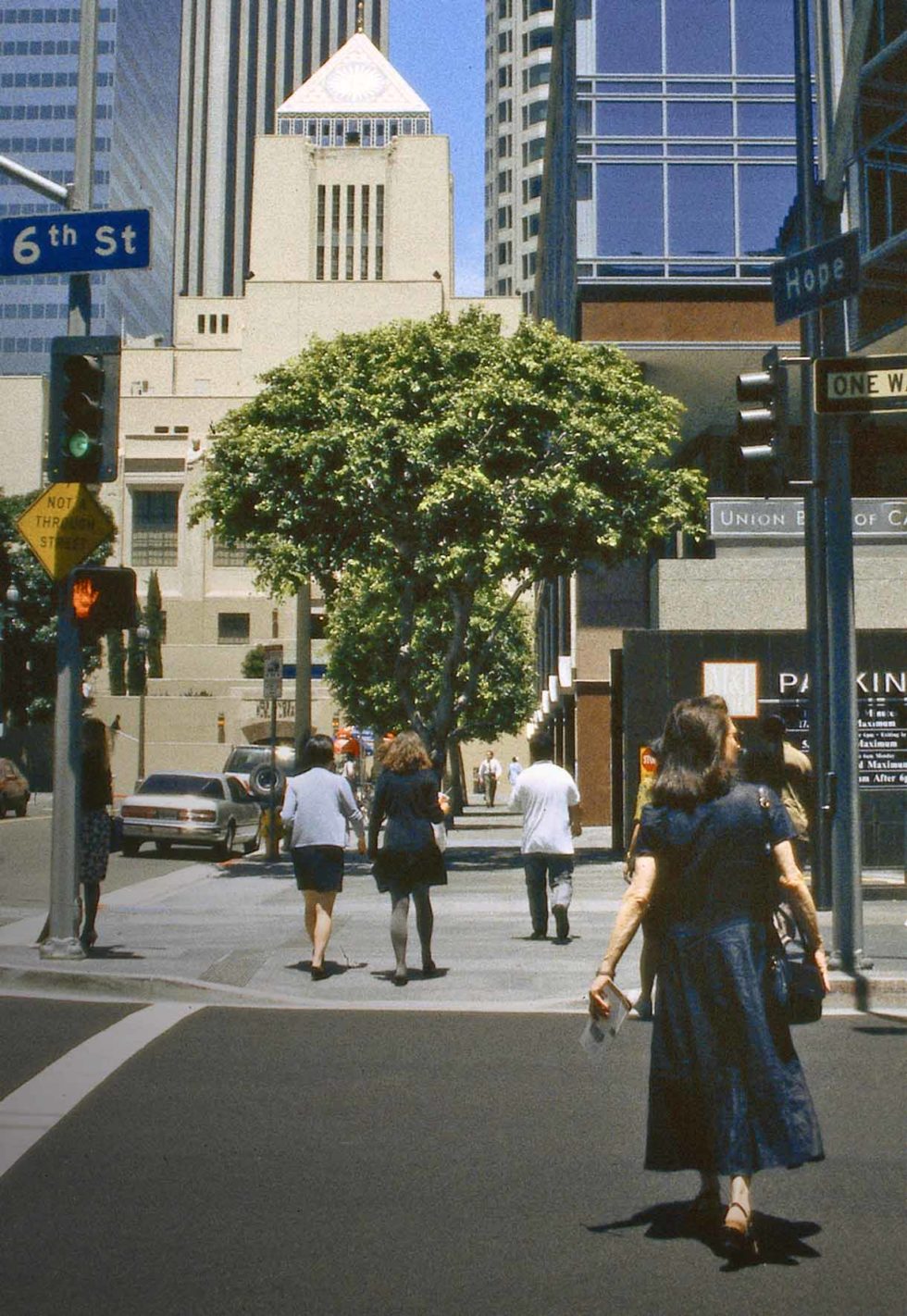 Deanna Molloy — founder and board chair of Angels Walk LA.
In 1996, in order to help create a vital, bustling downtown environment in Los Angeles, Deanna Molloy founded Angels Walk LA with the hope of bringing attention to Los Angeles' history, architecture, and public art, all while encouraging walking and the use of public transit.
To that end, Angels Walk LA set about to develop its first historic urban walking trail in the Bunker Hill/Historic Core district. Support was gained from both the public and private sector including the Los Angeles County Metropolitan Transportation Authority (now Metro), various City Council offices, the Mayor's Office, the Community Redevelopment Agency, private developers, the Bureau of Street Services, the City Architect, the Board of Public Works, the Los Angeles Department of Transportation, and the Los Angeles Department of Cultural Affairs. To determine the route of the walk, Angels Walk LA met with MTA representatives, City Council members, and stakeholders in the area to get their input. We then put ourselves in the footsteps of the pedestrian to see how the walk could be both entertaining and educational, while using public transit to link together all of the important destinations along the way. With the help of a talented and dedicated group of people, our first detailed guidebook, telling the story of the area's history, culture, and architecture, was published. Additionally, we created a series of on-sidewalk markers that now grace streets all over Los Angeles.
Supporters of Angels Walk LA
Mayor Eric Garcetti, City of Los Angeles
Los Angeles City Council
Metro (Los Angeles County Metropolitan Transportation Authority)
Bureau of Street Services (StreetsLA), City of Los Angeles
Transportation Enhancement Activities Grant Funding
Department of Transportation, City of Los Angeles
CalTrans (California Department of Transportation)
Learn More About L.A.—Take an Angels Walk, Today!